Heal Your Life Training will help you Learn How to Assist Others in Their Growth…

While Enhancing Your Own Personal Growth and Adding More Light and Love to Our Planet!
It is no coincidence you have found this site – at some level you are seeking a career with deeper meaning and a way to help others. This event will be listed soon on the Hay House website – click All Events.

Spend the most incredible week of your life with an amazing group of people all committed to bringing positive changes to the world! Our small group size provides an excellent environment for learning.
There are now Heal Your Life workshop leaders in 71 countries and 42 US states. We welcome many more to help change one heart at a time to change the world!
Heal Your Life® Workshop Leader Training
in Toronto, Canada for the first time!
Nov. 7 – 14, 2017     Toronto, ON

Workshop Leader Certification Course
with the philosophy of Louise Hay
          Please CLICK HERE  for other courses worldwide.
Listen to seven of the HYL teachers sharing about their workshops AFTER the training.
This fantastic in-depth and full participation training in the methods of Louise Hay gives you all the materials and skills you'll need for leading workshops: Affirmations ~ Visualizations ~ Inner Child Work ~ Meditation
You receive an intensive experience for personal growth – plus the following:
Full materials for leading your own 10 week Heal Your Life® group (script, handouts, music CDs)
Full materials for leading your own Love Yourself, Heal Your Life® two day workshop (script, handouts, music CDs, flyer)
How to "mix and match" the materials to lead up to 14 different workshops!
Marketing guides and information for your courses
Training for leading short workshops: inner child, affirmations, meditation, visualization, etc.
Handouts and CDs for the workshops
In-depth personal development work and workshop leader training
Group teleconferences, private Facebook groups, and email follow-up after the course
Certificate of Training
All hotel accommodations are at the Grand Hotel and Suites
You receive ALL of the above, including the lodging and meals for what other courses charge just for a course. At the completion of the training course, we regularly are rated a 10++ on a scale of 1 – 10. Our training FAR exceeds expectations.  Click here to make a deposit for the course. You will immediately receive an email with all the details for the course. (Note- G-mail users check your Promotions and Spam folders if you don't receive it. Hotmail users – add heartinspired.com to your safe list.)
Requirements for Participation:
Although there are no formal requirements for a background in counseling or leading groups, you are expected to be very familiar with the ideas in the books of Louise Hay. You are also expected to be using them in your own life with positive results and have a strong desire to share these ideas with others.
Our Heal Your Life Workshop Leader Training Program
will equip you with everything else you need to
successfully lead your own workshops.
We encourage you to register early as our trainings often have  waiting lists. The training in Toronto is limited to 24 trainees. For additional information contact the trainer, Heidi Martin, at [email protected]
G-MAIL users – important note! G-mail now puts these types of emails in either a Promotions folder or the junk one, so be sure to check there is you don't see  ours in your inbox. Hotmail – add heartinspired.com to your safe list. Other servers – if you do not receive our email – call us! 1-800-969-4584 or +760-728-8783. We are happy to answer your questions.
We encourage you to participate in a Heal Your Life® workshop or group prior to attending this training or have a few sessions with one of our  Heal Your Life® coaches. Go to:
www.healyourlifeworkshops.com and search for an HYL teacher or coach near you. This website also has many HYL events listed, so be sure to visit!
Required Reading Prior to Training:
You Can Heal Your Life by Louise Hay
Love Yourself, Heal Your Life workbook by Louise Hay (also known as The Companion Book in the gift edition.)
Ordering From the Cosmic Kitchen by Patricia Crane, Ph.D. (sent to you as a pdf when you register for the course)
Recommended Reading:
 The Power is Within You by Louise Hay and any other books by her
Letters to Louise by Louise Hay
Money, and the Law of Attraction by Esther and Jerry Hicks
Creative Visualization by Shakti Gawain
2017: The investment for your new or expanded career is $4,895CAN plus 13% GST for the Canadian training.  If you've missed the early registration, you can still save $400 by paying in full by Sept.  30th. Remember, the course fee INCLUDES your hotel, most meals, all your training materials and follow-up afterwards.
Please call Heidi at 905-515-7925 to make your deposit of 895CAN + 13% GST. If you register before Aug 22nd you will save 400.00. Balance is then $3600CAN + GST. The remaining balance is due by Sept 30th. SAVE AN EXTRA 200.00 if you pay in full by JULY 31st! (Plus 13% GST.) .
Please contact the course trainer with questions:
Heidi Martin: [email protected], (905) 515-7925
Who attends the training? Participants are from all walks of life, from many different occupations, and from many different countries. But they all have one thing in common – Louise's work has transformed their lives and they want to help others do the same.
Note: Due to our licensing agreement with Hay House, Inc., we now require liability insurance and a yearly $99US licensing fee. For the US and Canada, we have  special comprehensive liability policy for $150US a year. Contact us regarding insurance information for other countries.
* Cancellation Policy: Please submit any cancellation requests in writing. If you cancel more than six weeks before the training begins, $495 is not refundable. If you cancel between weeks 3 and 6, your deposit is not refundable. No refunds are possible after that unless someone is available to take your place in the program. If someone is available, all will be refunded except for the deposit.
About the Course Leader:
Heidi Martin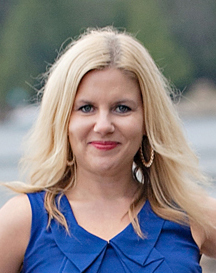 From a young age Heidi was introduced to Louise Hay's philosophy from her Mom and always felt a strong connection and belief with Louise's teachings.  She trained as a Heal Your Life workshop leader in 2011 and a Heal Your Life coach in 2012. Since then she has led numerous HYL workshops and coached many clients. Heidi is thrilled to be bringing this training to Canada. She loves teaching self-love, empowerment, financial abundance and how to raise your frequency. Heidi loves working with youth and teens helping support self-image and self-esteem. Her passion in life is to empower people to love themselves and awaken to their true authentic spirit. Living in the now, becoming aware and full of gratitude are some of her keys to success. Her motto is," Invest in your life and always know YOU are worth it"!! For more information about the training, go to the website, www.healyourlifetrainingcanada.com. 
To transform your life and learn how to help others transform theirs, plan to attend this course!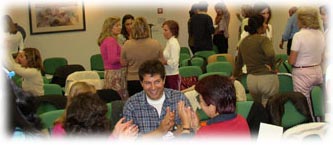 For 2017 – 2018 Trainings offered by other authorized Heal Your Life® trainers >>>LOOK HERE
Important note: The trainers listed on this site are the ONLY ones licensed by Heart Inspired, LLC, authorized by Hay House, Inc., and approved by Louise Hay to offer this training
To find a licensed Heal Your Workshop Leader or Coach near you, go to www.healyourlifeworkshops.com