PRESENTING…
  "Managing with Heart and Mind" HYL training for the business world.
2017 dates and locations:
June 24 – 28: Khandala, India. Click here for details. Early
registration discount date is April 12th!
July 31 – August 4: Kenilworth, England. See below for details.
Nov. 19 – 23, San Marino, Italy. Click here for details.
"This training is perfect preparation to bring HYL into the corporate environment. Sneha delivers the program with her grace, wisdom and professionalism. Shashank is dynamic and brilliant, and knows his stuff. Thank you both. I'm prepared and excited to take this workshop to my organization."
~ Cheryl Guttenberg, HYL workshop leader/coach, and V.P. of Human Resources for Kramer-Wilson Insurance in California
"This is a professional training programme expertly presented with very usable information. High quality and delivered with conviction. I am ready to work with this programme immediately." – Eileen Clair, HYL Teacher-Teacher for Ireland
Dates: July 31 – August 4, starting with orientation at 5:pm  on July 31 followed by dinner, the
4 full days of training, 8:45am to 6:pm daily. Note: Nights of July 31st to August 3rd included.
Deposit of $795 – click here. Balance of $2500 due June 16th, or use the two payment plan.

Register with your deposit by May 10th for the UK and receive all the materials (scripts, skills book, and PowerPoint presentation) for a business workshop on Stress Management.
At Woodside Conference Centre
An Intimate Event & Conference Venue in Kenilworth, Warwickshire, UK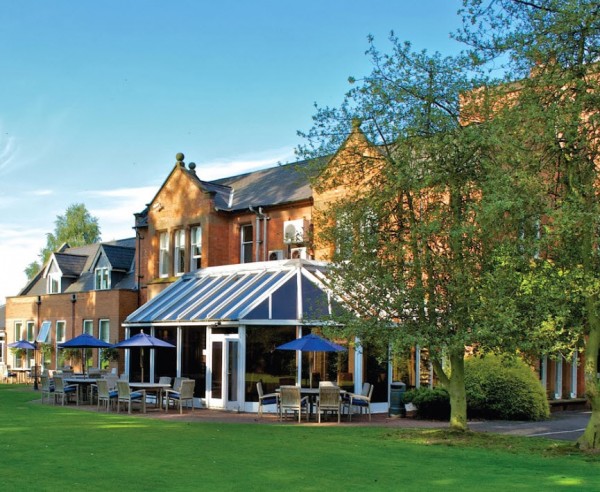 The HYL business training has now been held in Thailand, Orlando, Mexico, and the UK with excellent reviews.  The course leader, Shashank Gupta and Sneha Shah. receive standing ovations for their professional presentation and comprehensive materials.
(See below for just a few of the testimonials from enthusiastic participants.)
About Woodside: Centrally located in Kenilworth, Warwickshire, UK, Woodside is an Edwardian mansion with 20 meeting rooms as well as 74 en-suite bedrooms, making it the ideal location for residential events. Woodside is an intimate business conference centre situated on 32 beautiful acres of grounds, providing a perfect setting for almost any indoor or outdoor event or team building activity. It also has a large range of leisure facilities including a swimming pool, fitness suite, croquet lawn, tennis court and a 9 hole pitch'n'putt golf course. Mouth-watering and wholesome meals are produced daily by a talented team of chefs.

About Kenilworth: Kenilworth is small and beautiful town which lies in the heart of leafy Warwickshire. Our stunning castle and Elizabethan gardens is just one of the many reasons to visit Kenilworth, we are also lucky enough to have a diverse range of Independent shops, cafes and restaurants which makes a visit to our town something you'll want to do again and again! We are proud of our beautiful 70 acre Abbey Fields, which includes picnic areas, a lake, as well as a leisure centre. Warwick Castle and Stratford-on-Avon are nearby.
NOTE: Eligibility to take the business training requires the HYL teacher to have also taken the coach training because offering business workshops will often result in requests for coaching. The coach training prior to the business training is July 24 – 30, also at the Woodside Conference Centre. Of course, if you have taken the HYL coach training in a previous year AND have either led or assisted at a 2 day workshop, you are eligible to attend the business training.  
News flash! Due to the change in the exchange rate, we have lowered the price of the UK training!
Investment: $3,295US. $3,095US Deposit of $795US $695 (approx. £560 or €644). Note- deposit is nonrefundable due to the expenses we have for arranging the training.  One final payment on June 16th of $2,400 or use the two payment plan: $1200 on June 16th and $1200 on July 16th. The course fee includes lodging for 4 nights, all meals beginning with dinner on July 31st and ending with lunch on August 4th, and all manuals and materials.
---
"I highly recommend this to anyone wanting to be part of a top-notch, innovative business training program.  You will leave with the tools needed to be successful, and experience your own personal transformation of confidence during this training.  Both Sneha and Shashank are expert presenters and perfect mirrors of managing with the Heart and Mind!"
~ Carolyn Hillenbrand, North Carolina
" Sneha and Shashank deliver the training beautifully. The materials are perfectly balanced for business, making the Heart and Mind connection in a way for businesses to assimilate and accept the ideas and implement them." – Heather Moore, UK
---
Below are questions we have been asked many times over the years:
How do we do HYL courses for business?
What do we say to them about the importance love, peace and harmony in the work place?
How can HYL courses for business improve their "bottom line"?
How do we alter the exercises and language to make it more comfortable to people in the work environment?
How do we pitch course offerings to business?
How can we sharpen our presentation skills to create a powerful impact?
We are always listening to our HYL family and so we heard and held these questions in awareness knowing that EVERYTHING always unfolds in perfect right order and eventually the answers came.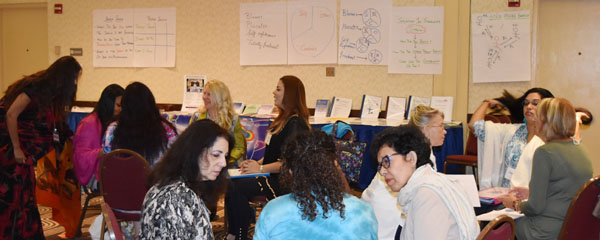 Well, the answers have finally arrived! We will be answering all the above questions and many more in each of the trainings designed specifically for the business community.
BONUS! Since this is continuing education for your professional HYL work it is likely to be tax deductible for most of you.
How the Managing with Heart and Mind training was developed

We have collaborated with ISRA Centre for Training and Development to create Heal Your Life training courses which would be suitable to deliver to the business community. ISRA is a company providing training in the areas of Transformational Leadership, Effective Communication, Coaching Skills, Emotional Intelligence, etc. to large and small businesses internationally. Best of all, Shashank Gupta and Sneha Shah, the owners of ISRA, are also successful licensed Heal Your Life teachers and coaches! We have been teaching and working with Shashank and Sneha for well over three years now and are certain that they are uniquely equipped with the heart, mindset, vision and business training experience to effectively teach us how to take this much needed HYL philosophy to the business world.

Imagine Patricia with her expertise in writing metaphysical/spiritual training courses putting her head together with Shashank and Sneha and their experience in writing business course. The only outcome you could possibly expect from this partnership is a truly masterful set of courses, and that is exactly what we have. The new certificate program includes 4 full days of training and all the materials necessary for leading complete one-day and two-day programs. Additionally you will receive instruction for presenting short "topic oriented" seminars and workshops for large and small business. You will also get comprehensive training on the specialties of marketing to the business community.
Introduction: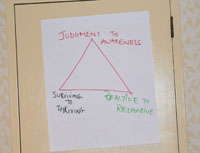 Many organizations have acknowledged the fact that happy employees produce more than unhappy ones over the long term. These happy employees show up at work on time and ready to work, they're less likely to quit, they go above and beyond the call of duty, and they attract people who are just as committed to the job. Moreover they are not sprinters; they're more like marathon runners, in it for the long haul. Most evolved employers realize that a mentally healthy workforce is the key to running a profitable business. Studies have shown that more than half of employees feel disengaged at work. This offers us an amazing opportunity to offer a platform which focuses on Inner Health, a powerful way to creating a robust high performing workforce.
What you will learn:
How to position HYL in the business world
New exercises and activities relevant to the changing business culture
An opportunity to humanize the corporate environment
How to create a management style that moves from
-Judgment to Awareness
-Reactive to Responsive
-Fear to Faith
-Surviving to Thriving
-Business presentation skills
-How to deliver "sales pitch" with the confidence of a veteran sales rep. (This will be accomplished through training and live practice with your peers.)
Self Assessment using Psycho-Geometrics (the Science of decoding people using geometric shapes)
Business Presentation Skills
What You Will Receive:

Manual with complete script and handouts to lead a two day workshop
Manual with complete script for leading one-day and 3 hour workshops
Information and outlines for leading one-day and 3 hour workshops
Marketing Material including:
-A Power Point Presentation to promote the programs
-Outline of Promotional Emails
-Pre-Reading Material for your participants
-A powerful concept note to promote the programs
-Outline of Promotional Email
-Handouts for participants during the workshop
-Post Workshop Journal for Participants
-Marketing ideas
---
"Sneha and Shashank have gone beyond the call as facilitators! This workshop far exceeded my expectations and I feel ready and equipped to go out into the business world. They are perfect exemplars of how to lead with heart and mind!" ~ Daniele Moore, Idaho
"The training is a fantastic workshop which is apt for any kind of organization. It connects Mind and Heart beautifully with the tools and techniques provided. A must for any HYL teacher interested in reaching out to the business world." – Sapna Shroff, India
---
Your Facilitators:
Sneha Shah and Shashank Gupta, owners of ISRA, Centre for Training & Development
Sneha Shah
Sneha is a Consulting Psychologist with a double major in Psychology. She has a driving passion for creating a difference. She has received immense recognition for doing path-breaking workshops in companies across the world, at all levels of management, including Leadership Excellence, Critical Conversations, Personality Profiling, Team Architecture, Building High Impact Teams, Influencing Skills, Etiquette and many others. Sneha is certified in Emotional Intelligence Profiling, Thomas DISC Profiling, FIRO-B, MBTI, Psycho-geometrics, Neuro-Linguistic Programming (NLP), Hypnosis and many others. She is the only professional in India, trained to practice Gottman Couples Therapy Method. Sneha is a certified Heal Your Life Workshop Leader and Life Coach, trained in U.S.A.
Shashank Gupta
Shashank is a dynamic entrepreneur who is a qualified engineer and has an MBA from a premier institute. He is a powerful facilitator, having conducted many programs in India, as well as several international programs in Switzerland, Russia & UK. He specializes in programs such as: Conflict Resolution, Relationship Management, Action Centered Leadership & powerful Train-The-Trainer Programs He is a qualified `Executive Coach for Peak Performance', Malaysia, Transactional Analysis Practitioner, Neuro-Linguistic Programming (NLP), Belbin Team Role Assessment, Psycho-Geometrics and others. He is also a Certified to use John Adair's Action Centered Leadership – trained in UK. Shashank is a licensed Heal Your Life Workshop Leader and Life Coach, trained in the U.S.A
ISRA
Shashank and Sneha's company, ISRA Centre for Training & Development, has a very long list of clients from across the globe, training programs offered, and rave reviews for their work listed on their website. Additionally they have completed our training as workshop leader and coach, impeccably handled every aspect of our teacher training in India in 2013 and have conducted many two-day HYL workshops as well other HYL programs . If you to go to their website and browse around a bit you will soon see why we believe them to be the perfect choice for this new HYL for business. http://www.isra.co.in/
---
The Bottom Line:
For those of you who have already completed the coach training, the business training fee is just $3,295 with your nonrefundable deposit of $795.00 deposit.  Balance of $2,500 due June 16, 2017. As usual Patricia has set up a two payment plan to help make that process as easy as possible. Once registered you will get links to make the additional payments. The fee for the business training includes 4 nights lodging (single occupancy), all the materials, all meals, and coffee/tea breaks.
IMPORTANT NOTE: Remember when considering this training that businesses are not as concerned about the costs of training as they are the VALUE they receive from the program. You can charge quite a bit more for business programs than you can private individuals.
Click here for more photos of the Orlando training..
Testimonials:
"Excellent, practical training that thoroughly prepares HYL coaches to help businesses manage with heart and mind." – Lisa Spooner, USA
"Having been a corporate consultant for over 12 years, I would gladly
endorse and support this training." – Ramesh Muthusamy
"This is a wonderful program synthesizing HYL principles with sensitivity
for the business world. I would thoroughly recommend the program for
anyone who wants to train from the heart." – Sonia Samtani, Hong Kong
"Thanking you from the bottom of my heart for the new avenue you have
opened up so beautifully to share the HYL work." – Radha Gupta, India
"This training absolutely gives you what you need to conduct HYL
programs for business. The manuals and the process are superb." –
William Escobar, USA
"This training easily exceeded my expectations. It shows you how to
motivate a business, build emotional intelligence, and ultimately
increase the bottom line!" – Damien Munro, Australia
"Shashank and Sneha are both amazing. Thank you for showing us how to
bring the heart to business." – Babbu Gill, India
"I would recommend this program to every HYL teacher/coach as it
opens a whole new door to the business world." –
Aleksandra Ubovic, Serbia
"Amazing facilitators, so professional and knowledgeable."
-Antoinette Coleman Kelly, Ireland
Looking forward to seeing you in Kenilworth, UK!